Opening General Session
Sunday, September 15 • 10:15–11:30 am
Tony Hsieh
Author and Zappo's CEO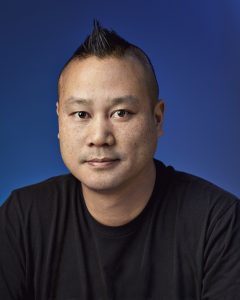 Success found Tony Hsieh at an early age. In 1999, at just 24, Hsieh sold LinkExchange, the company he co-founded, to Microsoft for $265 million. He then joined Zappos as an advisor and investor and eventually became CEO, where he helped it grow from almost no sales to more than $1 billion in gross merchandise sales annually while making Fortune Magazine's annual "Best Companies to Work For" list. In 2009, Zappos was acquired by Amazon in a deal valued at $1.2 billion on the day of closing.
Hsieh published his first book, Delivering Happiness, in 2010. It outlines his path from starting a worm farm to life at Zappos, showing how a very different kind of corporate culture is a powerful model for achieving success and happiness. The book debuted atop the New York Times bestseller list.
In addition to his CEO duties, Hsieh leads the Downtown Project, a group committed to transforming downtown Las Vegas into the most community-focused large city in the world. It includes the relocation of the Zappos.com offices from Henderson to what was the old city hall in downtown Las Vegas.